If yesterday my enemy was sore and parched throat, then today my enemy is definitely, MY SINUS.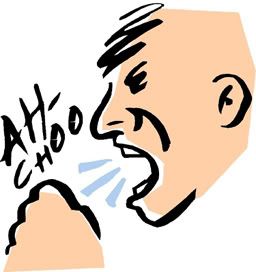 God, it is such a miserable thing to have flu when your sinus is terrible at the same time. That's the only problem with my health condition. Normal people when they have flu, they will sneeze but not that extreme as my condition. I would sneeze every minute and each time is louder than the first. And even worse, it took a lot of energy when I sneeze. And because I am fasting, a lot of energy is taken up and I felt so hungry. I felt want to iftar right there and then.
First thing when I got to school today was to organize my lesson plan and file. I've written all of the remaining lesson plans for this week and the next, and asked CZL to print it out for me and so when I saw that much paper, I was
shocked
. Why? Because just look at how thick is my practicum folder looks like now...
Thick right? But this is actually my second folder besides my official (white ring file) practicum folder, requested by Mr.Mus. Because that white folder can no longer fit that much paper in it any longer because the ring was quite small. And so, last two weeks, I shifted all of the lesson plans from that small white folder into a larger ring black folder but by the looks of it, the ring is still not quite large enough.
The picture above is only my lesson plans for the whole 14 weeks. It is already that thick and my black folder can no longer fit anymore. I still had my weekly journals, my education enactment documents and all of the other documents from school to be fitted in the folder.
My god................. I had to get a larger ring folder
. Perhaps I'll find a white one, just to make sure Mr.Mus won't be such a pest about me not using a white-colored folder, like he insisted.
My lesson for today was already prepared and I was so much prepped up to teach the students about Characters and Characteristics for the
Boscombe Valley Mystery
story, but the assembly today was prolonged because counselling matters and disciplinary measures, leading my double-period lesson to turn into only a single period lesson. So I had to make due with what I have, continuing from yesterday's lesson on settings to characters. The only character I could introduce and discussed with them is only Sherlock Holmes. Guess my self-reflection on today can be reflected by saying that more than two periods of literature lesson is needed in order to teach the students about all of the characters.
Being the teachers who are involved in the ELS, I was assigned by Madam Neik before to decorate and fill in the English Language board with interesting articles and language tidbits. I did change the content of the board before, back in June and so far, I had done nothing to update it. But yesterday, Madam Saralah asked me to fill it with new contents and so did Madam Neik, asking me to fill it with new content. So she brought over some newspaper clips and asked me to paste it up.
And so, I asked Tini to help me out. Aside from the newspaper clips provided by Madam Neik, I took some initiative to use some more articles I found from another newspaper on Madam Neik's table to be pasted up in the board because after all of the clips she gave, it still was quite empty. And I am too, not quite fond of how it looked empty and uninteresting. Tini helped me out by selecting some of the articles and cutting up the newspaper clips and I was doing all the stapling.
Much, much better looking right? Thanks Tini for helping me out. At least I am little bit proud of how it looks like right now. Maybe I ought to find some more English Language-appropriate materials to be stapled up there on the board. Maybe I'll change it up next week. I hope Madam Saralah would not be disappointed with today's effort though.
So, that was more or less about what happened in school today. Talking about iftar, today, I finally decided to take up the curiosity of why Semenyih local residents mostly answered their favorite break-fasting food is none other than Murtabak. I don't know why because for me, Murtabak is quite nice and filling but there's not much to it for me that would make me wanting it more. And so, today, I went to the stall in the Semenyih Bazaar Ramadhan with the most customers lining up for the
Semenyih Special Murtabak
.
This stall has always a long queue of orders for their murtabak and so I kind of assumed that theirs might be the best or at the very least, the most famous, by the looks of it because the queue is quite long. I stood in line for the murtabak too.
My comments? Not really that delicious. For me, it doesn't even taste that good because they put a lot of ingredients inside of it and I'm usually not a fan of stuffed things with so many ingredients as the fillings. I like the simple ingredient (egg + chicken or beef) as fillings. This stall had so many ingredients inside the fillings. I could catch a glimpse of
some onion
,
some leafy veggie
(I can't recognize),
spring onion
,
meat
(unidentifiable whether it is chicken or beef),
beaten eggs,
and
some sliced chili
. That's a lot for me and that would totally make it a such a mouthful. But I guess that is probably why they liked it so much? Huh, beats me.
That's it for today. Let's just hope that by tomorrow, my body temperature will go down (because I'm feeling like I am coming down with a fever), and my flu will go away. I don't want to even skip school, especially not at this last moment where my practicum is almost over. Can't wait....