So, the first day practicum finally arrives and after finally solving my issue of lodging throughout this four month practicum course, I was finally be able to get a good night rest before having to wake up two hours later because it was already 6am in the morning and Tini told me that we have to be at the school by at least 6.30am in the morning. Nope, she's not kidding.... 6.30am. God, that is not even my waking up time yet. But thanks to my Makdik and Pakdik (I'm lodging at their house), who made an effort trying to wake me up (they're experiencing the difficulty of waking me up in the morning for the first time...unlike my friends and close family who had already knew how hard it is to wake me up in the morning.
So, when I got to the school, the girls
have just arrived at the same time. Man, they're lucky cause their rental house is just 50m away from the school ground (walking range....very very close!).
Since the headmistress has not arrived as early as we did, we had to wait up in front of the office first.
When the headmistress had turned up, it was already time for the morning assembly and we were asked to join them. Ugh..... who would've thought that the headmistress wanted to do a proper introduction of us to the whole school. An honor, it was but.... we were embarrassed (well, even if the girls aren't, I totally am!).
After the morning assembly, we were asked to wait by the Bilik Ketua Panitia for sorting out the class and everything.
After waiting for quite some time, the head of language department finally had time for us and discussed about the class's sorting and related issue. Luckily for both Tini and I because we got the afternoon session while Zi Ling and Kak Yong go the morning session and they'll both be teaching form 4 while I got to teach form 1 meanwhile Tini got form 2. But since Tini and I are afternoon session teachers, we had nothing to do during that early time in the morning, so we went back to their rental house. I wanted to take a rest because I haven't got enough sleep from the previous night.
While I was sleeping at the hall, a large voice interrupted my slumber which kept on echoing, "Assalammualaikum.... assalammualaikum....." and I got freaked out thinking that it was some JAIS worker or something. I stayed calm and head outside to the gates and finds out that they were actually from the Jabatan Kesihatan Selangor which wanted to do a dengue inspection (which their house passed).
After that whole issue, both of us got hungry and Tini decided to cook lunch for her and the other two... well, of course she listed me also since I am a guest in their house.
Our main dish : Sambal Sardine
But I guess, sardine won't be enough for the other two also. So Tini decided to cook Telor Dadar as an extra dish in case the Sardine finish quickly.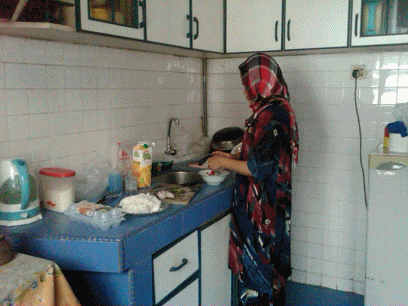 Sub-dish : Telor Dadar
After lunch, we head back to the school and this is the time when they finally shown us the conference room which is set to be our room to do our work which although the hall is big, we can only be at the corner spot in order to not disturb any existing or coming evil guys and warned the teachers.
So this location will be our headquarters of the sort.
The decorations are not quite bad too!
Although evening session consists of more naughty and spoiled brats and all, but at the very least we could still manage to be firm and control them unlike the form 3,4 & 5 which are very annoying!
So, we ended up gotten split out for a while and to come back to the conference room once we have met the teacher assigned for us to guide us. That's when the hunting season starts. The karate people are very good and everything.
So after some time of teacher-hunting. We finally came to a close and took a rest in the conference room. And since we have like almost three hours to before afternoon session school finishes, I was damn bored got nothing to do rather than just sleeping throughout. While I was resting, Tini was struggling to write a one period lesson plan, teaching literature.
After waiting and waiting, finally it stopped and the bell rings. Yahoo... free at last. So that's about it.