Sunday.... was amazing.
Naaaah...
kind of. Earlier that afternoon, my auntie asked me to drive her to the KL Sentral because she's going for an outstation for a week at Sabah. The catch was that I could use her car.
Score!!!!!!!!
Now I won't have to wait for my mom to come back from work to go out. Well.. for a week that is...
To celebrate, I decided to bring my little brother to go on a hunt for the Hindi movie
My Name is Khan
in DVD version because he and my mom would like to watch it so bad. I only have the VCD version and it can't be played on our PS2 and since then I have to look for the DVD version.
Our first stop was at
Ampang Point
because I remembered seeing it there the day before. But too bad for us since that one was also in VCD version, not DVD. I decided to go try at the
TESCO
instead. But before leaving, I stopped by
Baskin Robbins
and bought a pint-sized takeaway ice-cream just to be eaten inside the car. It was kind of fun and relieving because my auntie's car is an Auto-car and I could afford to do two things at a time (driving
while
eating ice-cream).
Ouuuuh.. Dry Ice... so cool-looking!
Anyway, our search at Tesco also ended up in
failure
because they don't have the DVD version also. Our last option was to go to the
Paragon
since that's the only nearest shopping complex left. Before heading to Paragon, I went by to pick up Myra from her house because we wanted to hang out later that evening.
Another failure seemed to occur as we didn't found any Hindi movie at all. Disappointed, I dropped my brother off at home and went to the
McDonalds
with Myra because she wanted me to help her with her blog settings.
I brought a couple of my magazines to be read so that she won't get bored while I'm configuring her blog.
Seriously... I was
multi-tasking
. One hand holding Myra's phone to
reply messages
and
use the laptop
, another hand
eating fries
, and my leg was
pressing up the power plug
.
Why?
Because it is loosened and if I just plugged it and left it as it is, the charging won't initiate at all...
See, there must be some pressure holding the plug on hold so that it will function.
Half an hour later, Myra's friend called Myra asking that he would like to join us for dinner and he said that he wanted to eat lots of things.
Pizzas
,
pastas
,
Nasi Ayam Merah
, and
Nasi Lemak
(wow... such an appetite). And it popped in my head that the only place that has that lots of variety was Pizza Hut (oh, except for the
Nasi Lemak
of course...), and so we went there.
who would want to miss an opportunity to watch movies for free
... right?
After dinner, we went straight ahead to Times Square and met up with Ammar. He gave us some 3D glasses and showed us in to the hall that's screening
Megamind
.
This is movie is..........
so and so
. You'll enjoy the laugh but that's it. Well, at least it's interesting to see the villain finally turns out to be a hero. Interesting.....2/5.
After the movie had finished, Ammar let us into another hall that is screening the action/thriller new movie
Unstoppable
starring the
gorgeously blue-eyed
candy
Chris Pine
and quite famous Denzel Washington.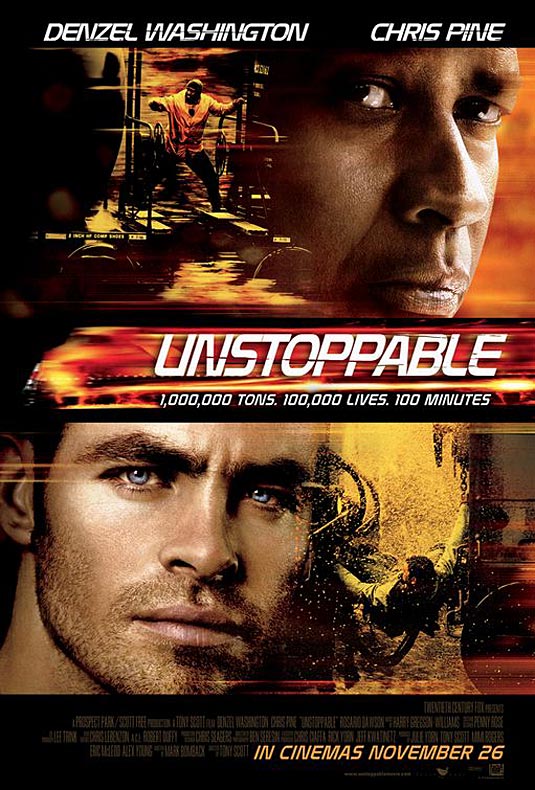 This movie is awesome. The suspense and thrill is just
overwhelming
. I screamed (not scared-type of scream but shocked-type of scream) quite a lot during the climax. The beginning of the movie was quite boring and dull but once the chase of the unstoppable train 777 begins, the movie hits its highest peak of
excitement
and
suspense
. It has a great climax following the plot (a very good climax I tell you) and there are some funny lines inserted too, not to get the audiences bored of all the suspense.
I would like to thank Ammar a lot for these two movies. Although at first I was reluctant to watch Unstoppable because it isn't my type of movie. Well, it's still free though, so I'm just enjoying it. Thank you so much.
After the movie, we waited for Ammar to finish his working shift and hang out at Tanjung for a while until everyone started to get tired and we finally head home.