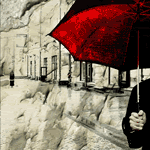 This is obviously a
bad day
for me I guess. I had nothing good happened to me today. It started out with a big fat lie from the instant messaging result system. I found out that the result for last semester had gone out and Faiz told me that his was not good. And I got anxious to find out what my result was. I was searching from everyone who have the number for the instant messaging result system to find out what my result was and when I found out, the result
wasn't that bad
.
I was
deliriously happy
at the moment. Seriously happy because all my hard work studying did me good and so with that bright smile carved on my face, I set my path to Meru to pick up Faizal from his house because both of us had our
MUET
test tomorrow morning.
Darn it,
all the roads
around Kuala Lumpur was
congested
all over.
Every roads
,
every highway
. Thank goodness that I took Faiz's advice and didn't went for the MRR2 instead because it was way worse over there cause I kept on hearing on the radio that traffic was heavily crawling over that area.
Even when I entered NKVE highway to reach Meru, the traffic was still as heavy as hell. I was feeling tired driving for hours non-stop, slowly like a turtle. I finally made it to Faizal's house after 3 hours or so and then we went for Dinner at McDonald in Puncak Alam.
As we reached our house in Taman Ilmu I was surprised because this time around, the house was left cleaned and tidied. Whoever did it,
thank you very much!
Tired, I unpacked all my things and went to sleep. And it didn't stop there.
I had a
terrible nightmare
that forced me to wake up abruptly. That was seriously a freaking nightmare. I was fucking scared that it might happen for real...Anyway, with me already woke up and can't go back right to sleep, I decided to double check my result at the student portal at the UNiSEL official website.
That instant messaging result system was a
big fat lie!!!!!
It showed my previous semester's results! My result was as bad as Faiz's and perhaps even worse. I was seriously demotivated!!!!!!
Darn it!!!
live happy for a brief moment?