Last Saturday, I had to come back to Unisel to do my other three MUET test and gosh I was surprised at the amount of people.
Just look at them
. There were so many other students taking MUET this time around. I was actually quite scared to do the test because of the expectations from my Auntie requesting me to get
better than Band 4
and the pre-requisites of a TESL student to
at least get a Band 4
. I know, I should get Band 4 and just be happy about it but at least I wanted to try for a better Band, maybe Band 5.
But considering the fact that my Speaking Test didn't go
quite
that well, I might kiss that Band 5 a goodbye already. The Reading Test was quite
challenging
, the Writing Test was even more
dreadful
. But surprisingly, the Listening Test went
smoothly
. Considering having low hearing capabilities, it was relieving enough for me to be able to answer all the question.
After the test, Faizal requested that we'd go hangout first before returning back home. After a careful deliberation and negotiation, we finally decided to hit the cinema at Jusco Bukit Raja.
The fun part was that the movie that we chose,
Crayon
, wasn't a big hit and there were no one else inside the hall except for both Faizal and I. And the fact that the hall was
so freaking huge
make it matter more! It's even larger than our Lecture Theater in our faculty. Just imagine, having all that space for our own selves!!
There was nobody else but Faizal and I.
See... no one else...!
We were laughing and talking so hard during the movie like it's ours but nobody can even scold or mad at us because we're the only ones inside! Hahahaha!!! But then again, that's so bad, because this movie, Crayon, is such a great film.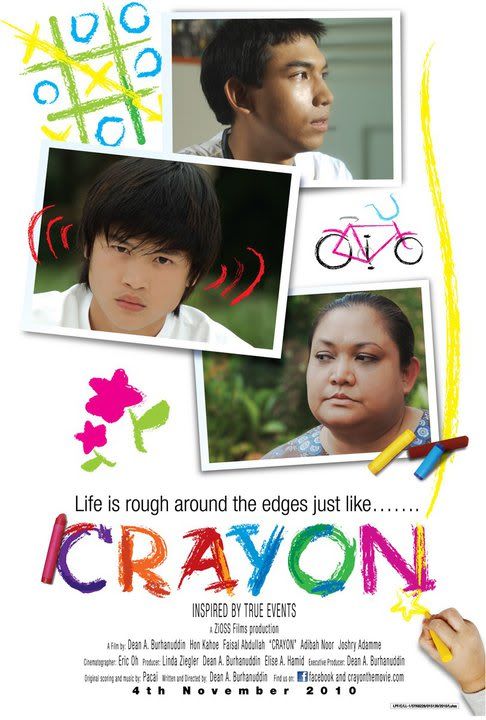 This is really a brilliant film portraying the stereotyping happening around our community. Thinking that rural people or rural areas are as medieval or old to not be able to support electricity, signal or water. Such terrible thinking. But Adibah Noor brought down those discrimination in the film like it was a joke. Most of the time, the movie will provide us with lots of laughter with Adibah Noor's great acting skills, and those children playing around. I had a great time laughing at those acts. Especially one quote from Mak Engku (Adibah Noor), "My England is very powderful!". As the story goes on, I was touched by the humanism that the actor provided by trying to help out at the orphanage in which Mak Engku has some financial trouble keeping it together. And in the end, like all most sentimental movies I watched, I wept in tears. It is really a great movie!
But too bad that this movie didn't receive a lot of hits from Malaysian people.
Hello?!!
Where is our Malaysian spirit?!
We may not be able to compete against international movies out there with their advanced CGI and awesome effect but at least we have our own originality, our own agenda of educating our people, and portrays the exact reality of today's people. Why can't these people support our local film, watch it and understand the plethora of moral values portrayed in it. Why can't more people support our local film? This is such a great movie!!!!
After the movie, we took a quick stop at the
Baskin Robbins
to buy some ice-creams before heading back. Recently, I have been craving for Baskin Robbins quite a lot. And I've fallen in love with a new flavor :
Cotton Candy!
It's yummy!
I sent Faizal back to his house at Meru and I head back off to Kuala Lumpur.