I got the invites to the premier screening of Altitude last Wednesday. It was actually supposed to be on the Tuesday but it got postponed. The postponing kind off put my plans out of schedule because of the exam papers that I had on the next morning. Anyhow, thank you Nuffnang for giving me the opportunity to watch it for free. Thank you, thank you, thank you, thank you!!
At first I wanted to ask if any of the guys wanted to be my plus one, but no one wanted to because we had an exam paper the next morning. Actually, we had exam papers four days straight, starting from Tuesday until Friday. Sucks, isn't it. Since nobody wanted to be my plus one, I remembered Mira and asked her if she wanted to by my plus one and she agreed! Thank you!
Wednesday morning, I had a paper. I finished the paper, went home and slept. Woke up at 3pm and went to the cyber cafe for a while to play games because Mira also had an exam on that day. But that was her last paper, so the outing would be a merdeka-like outing for her. She picked me up at 5pm over and we get a move on to OU.
Arriving at OU, I saw ROMP and went in. Bought two tops which I think is super stylish. Too bad it was white in color. I know that I am totally loving white right now but it's hard to keep it clean because I'm a clumsy-comot person. I'm afraid that I might get it dirty when I eat.
After ROMP, we almost went upstairs when she reminds me that I love the takoyakis here and we went to the Jusco to get the takos. Ummm... yum yum!!! I finally found the right shop that Faiz and Ezyan told about.
After getting the takos, we went upstairs at the bridge area because Mira wanted to buy this Nolan Macbeth shoe that she was totally craving for. Too bad for her, her size was out of stock and the store attendant told her that all the other outlets that sells Nolan Macbeth was already out of stock too. The next stock arrival is in December. Gosh, that's a long wait. But, being a crazy fan of Nolan Macbeth as she is, she was determined to get the shoe in December. Disappointed, we went out of the shop and sat at the nearby bench.
We sat there, talking about Nolan Macbeth shoes while eating takoyakis.
At first, I was a bit scared that she might not like it or that it doesn't suit her taste. But she said it was delish. I was surprised. And then she told me that she likes to eat anything as long as it is tasty. Yeay, one more friend who share a common interest. I told her that I like to experiment new foods as long as I had the opportunity. Hmm.. maybe I'll go an outing full of eating with her one day...!!! Hahaha, we'll be bloated as hell!
The time was 7pm and we still had some time before the ticket collection booth opens. We went round and round, window-shopping. We went into Padini for a while before we got sick at looking at those expensive prices. But going inside Padini wasn't a bad idea. Cause I found out the color of the season. Purple. Yes, purple. So, stuff your wardrobe with some purples, fall look is all about purple, dark purple, neon purple, and light purple.
And then I took her to the Juiceplus shop that I bought that smashing berries. OH yeah, correction! The drink that I bought wasn't named Smashing Berries. It was Berry Blast. It tasted as good as I tasted it before.
Fun Fact : Mira can't eat fruits. If she does, she's gonna have a terrible case of CerBer. (figure it out youself)
It was 8pm and we rushed to the TGV. There wasn't a long line when we got there. You know what that means? I won't get the front seat, yeah! We got the tickets and I got another Nuffnang pin badge! I think I'm soooo gonna collect those things. I'm a collected. Yup.. a collecter of... weird things... hahhaha.
We got ample time before the movie starts and we went to some gift shops, looking at some cool looking items. She told me that she has quite a collection of Domo-kun items. If you guys don't know who or what is Domo-kun, this is what it looks like.
It is a TV character, like a cartoon. Like Pingu and some others. It's quite cute and adorable! Mira is totally in love with Domo-kun. If you guys ever gets the chance to see the inside of her car, you'll find a lot of Domo-kun collecter items. Plushies, seat belts, tissue boxes, and so many more.
It was 8.45pm and it almost time for the screening. Because we were so thirsty, we bought a large drink for each of us and entered the cinema.
I guess it was dumb for me or whatever it is because we didn't saw the notice in front of the cinema that says for all who is attending the Nufffnang Premier Screening of Altitude, each person receives a complimentary regular size popcorn and a small drink. And so, instead of having just one drink, we ended up with one large drink, one small drink, and a regular popcorn each. But since Mira can't eat popcorn because she's afraid that she might get gas, she gave hers to me which I took it back home to be given to the boys.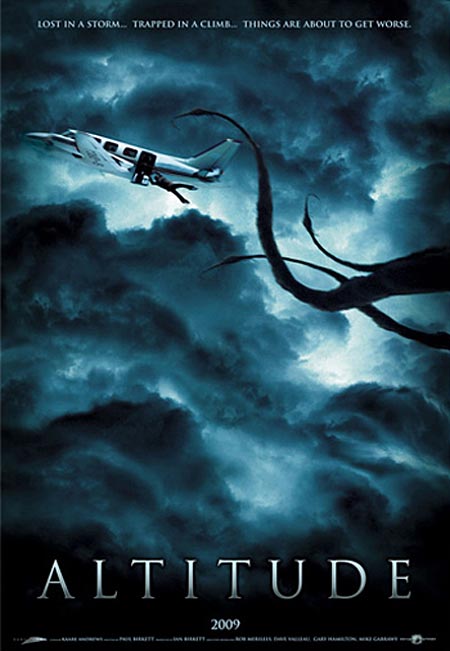 The movie was great. I tell ya. I'd give it a 4 out of 5 for the plot, the cinematic, the thrill, the suspense, and everything. The only thing that I was cursing about was the storyline. It was fucking bullshit! The movie was great all the way but once it took a turnover after the climax, you'll be cursing a lot at the main hero of the movie. By the way, it wasn't just me, there were a lot of others like me that were bullshitting the movie because of the main hero. But it is still a great movie though. You have to watch it. It is a good movie. It's just that the storyline sucks. The main heroine is a super hottie. Love her eyes!
After the movie, we hit the Ghulam Mee's for dinner. We were busy gossiping around when suddenly Karen called me and delivered a sad news about Mien's sister. She told me that Faizal posted at the Facebook:
Somehow, I felt bad because we were out having fun when I heard the news. It was conscience talking. I told Mira and she agreed that we should head back. I don't know what took me but I was no longer in the mood to chat and having fun anymore after hearing that news. It was....sad. So, we paid our food and we head home.
Thanks, to Mira because spending the evening with me, chatting, laughing, and having fun. It was fun. We are now officially, the best bitch forever! OR best beng*** forever!!!! Love you!!!