Whoa, this is superbly exciting. I get to share my favorite character of all in Tekken but I don't know if she is in the movie or not. But I really hope she is! So, here goes nothing.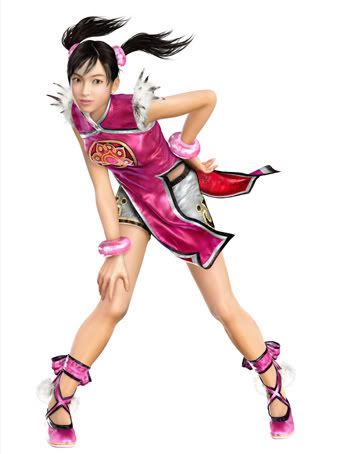 Name : Ling Xiao Yu
Age : 20 years old
Height : 5'2
Weight : 93lbs
Occupation : Student and Panda caretaker
Biography :
Even at a very young age, Ling Xiaoyu loved amusement parks. Also from a young age, her grandfather,
Wang Jinrei
, tutored her in the
martial arts
. He believed that if she were more serious, she could achieve true greatness, but became frustrated by her careless attitude.
While vacationing in
Hong Kong
with her family, she noticed a
yacht
bearing the name: "Mishima Zaibatsu". Knowing that the Mishima Zaibatsu was rich and powerful, she decided to seek out
Heihachi Mishima
and make her dream a reality. Abandoning her family, Xiaoyu stowed away on the ship.
The ship's security soon discovered her and informed Heihachi of her presence. By the time that Heihachi arrived on the scene, all of the Tekkenshu—Heihachi's personal security force—that were aboard the ship had been beaten into unconsciousness and strewn about the deck. It looked as if the ship had been hit by a hurricane.
Amidst the chaos, Heihachi found Xiaoyu. She threatened to beat him up if he did not accept her challenge. Amused by her juvenile antics, Heihachi roared with laughter and promised to build her theme park if she won his tournament. She enrolls at the Mishima Polytechnical School, and this is where she first meets both Jin Kazama and Miharu Hirano. Bringing along her old school's trained
panda
(aptly named "
Panda
"), Heihachi teaches her to fight, much like he has taught
Kuma
, so that Xiaoyu would have a bodyguard. This inspired Xiaoyu to see Heihachi as something of a grandfather toward her.
Fighting style : Ling Xiaoyu practices Hakke Sho, Hikka Ken, a form of Bagua-zhang, and has moves that are taken from various other martial arts. Typical of a person of her size and build, Ling Xiaoyu is strong in regards to the damage inflicted by her moves. Xiaoyu emphasizes speed, as her moves have a relatively higher priority. In addition, she also has a quick roll and cartwheel that can be used evasively along with stances which keep an opponent confused.
-information taken from this
website
.
So, what I really like about Xiao Yu is that she is an energetic, spunky, fresh and lively character. Which sometimes resembles my happy-go-lucky nature. She's perky, adorable and not to mention very cute!! Kawaii ne~!
Anyway, the first time I played her character in PS2 Tekken Tag Tournament, I was astonished how her fighting style is quite graceful and neatly coordinated. She's fast and she's agile. Her attacks maybe a little bit short-ranged but her rapid attacks and flexibility completely out-flaw her weakness. Her attacks can be chained easily into a long combo but quite hard to pull if you're not an experienced Xiao Yu user. What I meant before about her flexibility is her attacks motions. She has different types of attack motions according to her stance. She has this back-reversed stance where she face her opponents with her back and her attacks is more like the Drunken God stance. Another one of my favorite stance of hers is the Crouching stance. In this stance, her attacks are more likely to lift the enemy into the air and starts juggling her enemy. That is what I meant about when I said her attacks can be chained. You can start off with the Crouching stance, lift the enemy into the air, starts juggling the enemy, switch to reversed-back stance and starts hitting the enemy non-stop. That is my way of using Xiao Yu in Tekken. Though it may not be the best, but it has worked for me. Her specials is quite not bad too though I rarely use it. Her special attacks is more like a charged attack. She charges her palm while doing some spinning motion while collecting some sparks and finally releases it onto her enemy using a knife-like palm attack.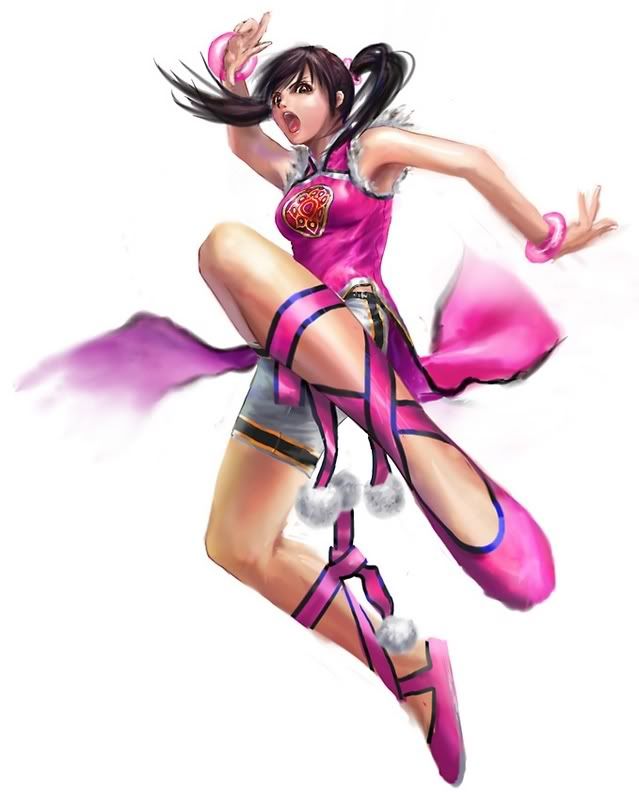 origina photo taken from
Photobucket
Whoa, that is seriously some serious rambling. Anyway. That is it, I guess about my favorite character in Tekken. I really like using her and I really hope she's in the movie though I hardly seen any shots of her in the trailer or the preview cause I know this movie is more about Jin Kazama. But I'm still excited about going to see this movie. I hope I would get to see the movie so much!!!
Thanks
Nuffnang
for giving me this opportunity~!!!